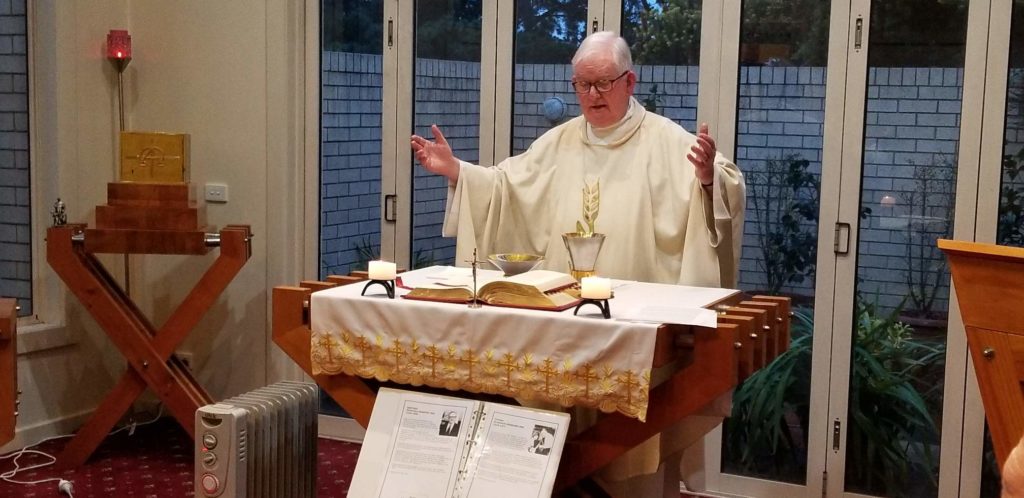 "These will be the only words from me on my Golden Jubilee of Priestly Ordination. Two elements of this liturgy serve as a springboard: Readings taken from the Lectionary for Saturday of the Fourteenth Week, and the liturgical memorial of St Benedict.
The Lectionary readings hardly need comment. Isaiah acclaims the majesty of God, the only one worthy of "Holy, Holy, Holy," and his accepts the purification of his unclean lips so that he might offer himself to that awesome God: "Here I am, send me!" Awareness of one's own fragility and preparedness to be sent by God must always go hand in hand. There have been times over the past fifty years when the latter was entered into without sufficient acknowledgement of the former.
The relevance of Benedict is more subtle. The celebration of his feast day on 11 July was initiated in recent times, shifted from March 21, the traditional day of his death – still observed the world-over by Benedictines. July 11 associates Benedict and his followers with the formation of the European Union. This decision is rooted in the fact that the Benedictines, and their reform at Cluny, guaranteed the ongoing presence of the classical culture into the Middle Ages and beyond. Europe and its many rich cultures have their beginnings in Benedict and the Benedictine movement.
The Gospel is equally eloquent. As a hostile world has treated Jesus, so will it treat those who hope to be his followers. The contemporary catchcry "No Fear" must determine our discipleship, confident that Jesus Christ will declare himself for us in the presence of his Father in heaven. Otherwise, where else do we place our hope?
How is that relevant to this celebration? At 26 years of age I had finished my early formation in the Australian Province, including three years at "Rupertswood." During that time, by policy, Salesians in formation were not allowed to pursue tertiary education except the extremely weak instruction we had in the postnovitiate. I had successfully completed the first year of an Arts degree at Melbourne University before joining the Salesians. On that basis, I was asked to teach English and English Literature to the first Year 12 (then Matriculation) here at Sunbury in 1963.
After the four years in Rome that led to my Priestly Ordination on 11 July 1970, I went on to spend 11 years in Europe: Rome, France, Germany, Israel, and Oxford. I learnt the languages. I visited the great natural beauties and artistic achievements. I earned two Masters' degrees: Theology and Biblical Studies. I completed a Doctorate in Oxford, published my dissertation, and found myself teaching – back in Rome. Dean of Studies, Rector at Oakleigh, and Vice Provincial filled in the subsequent Australian years. Teaching at CTC, and eventually setting up Theology in ACU as the Foundation Professor of Theology there, were a major part of it all. I fitted in a Professorship at the Ecole Biblique in Jerusalem (1989-90), and the Biblical Institute in Rome (1993-1994). These visiting professorships made ongoing scholarly research and writing possible. Except for my work on Revelation, my major commentaries were all born there and in the USA.
My European formation, a continuation of the heritage of Benedict, has served me well. I entered the very different world of Washington DC in 1999. American scholars, in general, are mono-linguistic and mono-cultural. My broadly based formation and linguistic skills were greatly appreciated. My six years, three of them as the Dean of the School of Theology and Religious Studies, at the Catholic University of America, led to my being appointed Provincial. Since then I have been blessed by numerous opportunities to work with Salesians in the East Asia Region. The rest is recent history: Clifton Hill and back where I started: From novitiate, Practical Training, and Ordination … to the final years!
I am grateful to Don Bosco and the Salesians for affording me all the opportunities outlined above. Salesian communities all over the world have accompanied me on my journeys, both academic and cultural. I have deep and lasting friendships from those days, especially Michael Winstanley. I am also grateful to Don Bosco and the Salesian charism for instilling in me a work-ethic that I continue at 80 years of age. It makes sense of every lonely day. Since coming to Sunbury six months ago I have submitted two essays to major journals, written a brief book, worked through proofs, and published two books, with two more still to come in 2020.
It is not possible to describe the gratitude to my Mother and Father that this day generates. My overpowering memory of this day is the joy and pride that it brought into their remarkable and self-sacrificing lives. Academically, I am greatly supported by a large group of mid-term scholars whose doctoral studies I supervised. In Europe they talk about the Doktorvater: the doctor father. In a good academic relationship, a sense of belonging emerges. This has been my experience. I am now almost daily supported by grateful and skilful university professors in Europe and the USA who were once my students. In scholarly circles, these people are referred to as belonging to "the Moloney School."
Salesians and academia? I will close by citing the dedication of my forthcoming The Apocalypse. A Commentary:
I dedicate this book to the several thousand Salesians of Don Bosco and Daughters of Mary, Help of Christians, who work for the young, especially the poor and abandoned, in the East Asia-Oceania Region of my religious congregation. They are in Pakistan, Myanmar, Malaysia, Thailand, Cambodia, Laos, Vietnam, Hong Kong, Macau, Taiwan, Japan, Korea, Mongolia, the Philippines, Papua New Guinea, Fiji Islands, and Samoa. Traditionally, Salesians do not read many books like the one that follows. However, these women and men are living signs that the Lord has truly risen.
Francis J. Moloney, SDB – Salesian Community "Pupertswood" – Sunbury (11 July 2020)