(Text from: www.bosconet.aust.com)
Love in the Gospel of John, Francis J. Moloney sdb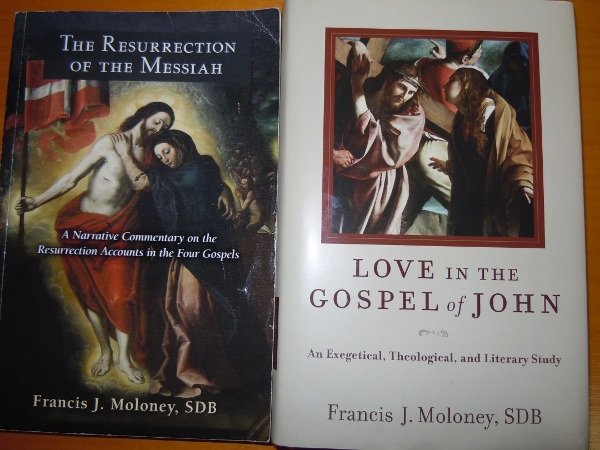 MELBOURNE: 20 December 2013 — It was a warm one – 40 degrees in Melbourne, reaching its peak around 5 p.m. just as Love in the Gospel of John was being launched. This new work by Professor Francis J. Moloney is drawing critical praise from many quarters as a "new and substantive contribution to Johannine Scholarship." Suffice it to list some of the comments below:
"The evangelist's story has all the twists and turns of any real love story. Moloney sheds light on these several twists and turns as only he, among contemporary English-language scholars, can do."
Raymond F. Collins, visiting scholar, Department of Religious Studies, Brown University
This is not just another study on love in John. Its speciality is to focus more on the actions God takes through his Son than on words/commandaments of Jesus about brotherly love; and he [Moloney] does it in a masterly way focusing his predominantly narrative analysis on what happens in the story and how it is put into words. This book hits the bullseye; if given serious study it will open up a much more succinct understanding of the Fourth Gospel.
And what led Frank to reconceiving his already extensive, world-acknowledged understanding of John's Gospel in this new and exciting way? "Years of association with the Johannine story led me to look beyond what Jesus teaches and commands about love in the Fourth Gospel. All those words (and there are a lot of them) have their place within a narrative. The problem with so much analysis of the Gospel of John (and biblical texts in general) is that we often forget the whole story as we focus on particular words and commands. I was as guilty of that as anyone, as I had been trained that way. But love is best communicated by loving actions, not loving words. We all know that! I have thus tried to interpret what the Fourth Gospel teaches about love by situating the words within their narrative context. Both words and actions must go together. In the end, actions really count when it comes to making love known."
Contents of the book:
1. Entering the World of John's Gospel
2. The Mission of Jesus: To Make God Known
3. The Hour Has Not Yet Come
4. Love in Action, Discourse, and Prayer: John 13:1-38; 15:12-17; 17:1-26
5. "It Is Finished": John 18:1-19:42
6. "Love One Another as I Have Loved You": John 20:1-31; 21:1-25
7. "Those Who Have Not Seen and Yet Believe": John 20:29
Plus bibliography, index. Selling for AUD 34.99